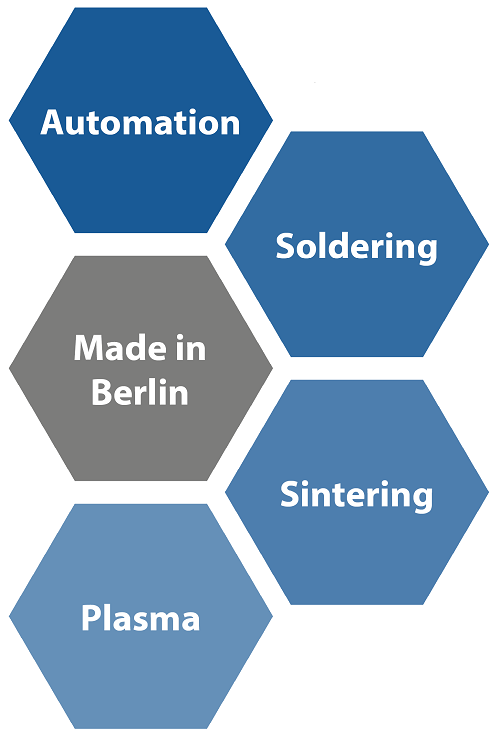 2020 – 2021
Introduction of the new VS 160/320/XL II series with new design, new software and additional functions
2019
Development of the SP 300 sintering press with a purely servo-electric drive for sintering under adjustable atmospheres and freely programmable forces up to 300 kN
2018
Delivery of the 100th vacuum soldering systems.
Expansion of the production area through the construction of a new warehouse including automatic paternoster storage systems.
Investment in a CNC milling center for the production of customer-specific components with minimum lead times.
2016
Opening of our new company headquarter with a production hall and office building in Berlin's Melli-Beese-Strasse, at the former Johannisthal airfield.
ISO 9001 certification
2015
Development of the VS XL vacuum soldering system for large parts and high throughput
2014
Development of the SP 60 sintering press for sintering under inert/reduced atmospheres and vacuum.
2013
Development of the automated inline vacuum soldering system VS 320 i for mass production
2010 – 2012
Delivery of first products to well-known customers. Development and construction of the VS 320 vacuum soldering system with the options of hydrogen and plasma cleaning
2009
Founding of budatec GmbH by Alexander Dahlbüdding and Dirk Busse
Development and construction of the VS 160 vacuum soldering system and trade fair appearance at the Productronica Munich

2003 – 2009
Accquisition of TECA Technologieorientierte Automation GmbH by centrotherm. In addition to the development and production of vacuum soldering systems, the focus was on the development of fully automatic wafer testers.
1991 – 2003
TECA Technologieorientierte Automation GmbH was formed from the Institut für Nachrichtentechnik. The focus was on the development and construction of vacuum soldering systems such as the MCM (Multichip Assembly Machine) as well as automation systems for the semiconductor industry. This is where the founding team of the later budatec GmbH started.